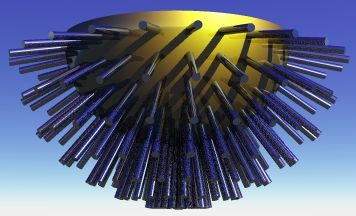 Detta är en principskiss. Kristallernas position eller färg stämmer inte överens med verkligheten.
The position of the crystals and the colours does in no way represent reality. This is a model made to give you a general description.


SVENSKA
Kristallerna, ett hundratal, sitter fästa i en "igelkotts"-formation på en halv uppochnedvänd sfär (se principskiss). Varje skepp har tre inkapslade halva sfärer undertill (se bilden på skeppet). Kristallerna sitter i ett speciellt mönster med omväxlande plus och minus-laddade kristaller.
ENGLISH
The crystals, around one hundered, are positioned like the pins on a hedgehog (!) on a halved sphere turned upside down (se model). There are three encapsulated halved spheres underneath each ship (see picture of ship). The crystals are positioned in a special formation with pluscharged and minuscharged crystals.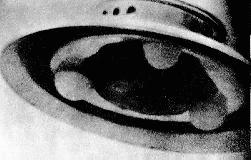 "Adamski"-skepp. Notera de halva sfärerna under skeppet, där kristallstavarna som driver skeppet är belägna.
Ship photographed by George Adamski in the 50´s. Notice the halved spheres where the crystals which are used to power the ship is positioned.

DRIVKRISTALL/POWER CRYSTAL